ProcruX Protein Powder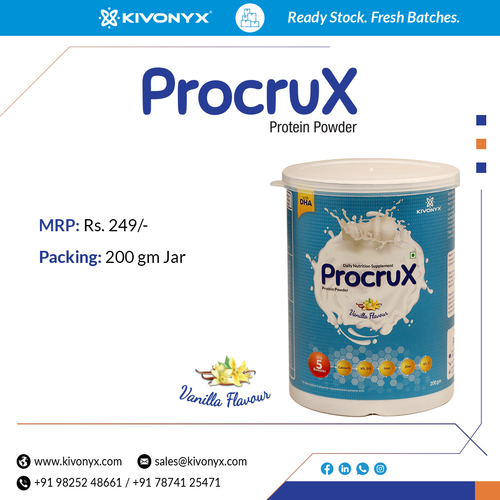 ProcruX Protein Powder
Price And Quantity
Product Specifications
Product Description
ProcruX Protein Powder: The Daily Nutritional Supplement
Flavors:
Vanilla
Kesar Elaichi
MRP: Rs 249 per 200 gm Jar
Packing: 200 gm Jar with Scoop
USP:
Advantage of 31 Vital Nutrients with 100 mg DHA
Pro 5 Booster Advantage. (Calcium, Iron, Zinc, Vit D3 and Vit C)
Excellent Taste for Better Patient Compliance.
Most Balanced Formula to full fill daily Nutritional needs.
Excellent Packaging.
Indication:
As a Daily Health Supplement.
Pregnancy and Lactation.
Growth During Teenage period.
To prevent Neural Tube Birth Defects.
Lethargy and Weakness
Improve Liver Function.